Is Colon Cancer Curable ?
Colon cancer is a health condition that we often come across at our hospitals. It is one of the most prevalent digestive tract Cancer in India.
Moreover, the number of colon cancer patients is continuously rising in India. But what makes this cancer even more dangerous is that this cancer is prevalent in the younger population in India.
During the consultation of such young patients, we often come across this common question, "Is colon cancer curable?"
In this blog, we will address this question and offer you helpful information related to the treatment of colon cancer.
So Let's Get Started.
Treatment of Colon Cancer
When it comes to the treatment of any cancer, there are Multiple options and modalities. The exact treatment plan depends on the stage of cancer and the Patient's Individual Condition.
If we are able to Diagnose Colon Cancer at an Early Stage, We Focus on curing the Patient by Entirely Eradicating cancer. The cure for cancer means ,cancer won't return to the body for at least five years.
In case colon cancer is diagnosed at a later stage, our focus is to elongate the life span of the patient and offer them a good quality life. So we can say while a cure is possible in a few cases, treatment is possible for all.
Stage Wise Treatment Of Colon Cancer
Like almost every cancer, colon cancer too has four stages. And for each stage, the treatment is different.
Stage 1: Colon cancer is said to be in stage 1 when the colon cancer is confined to the mucosa or has spread in the muscles within the colon. In such cases, the survival rate (of at least five years) could be as high as 92%.
This means if the cancer is diagnosed and treated in stage 1, more than 92% of the patients will survive free of cancer after five years.
Stage 2/Stage 3: When the cancer is spread in the colon or in the nearby organs or lymph nodes, it is said to be in stage 2 or 3.
Even in these cases, if careful treatment is offered, the survival rate in such cases is 72% after five years. Such a high survival rate even in stage 2 and stage 3 is really a good sign.
Take a Moment to Call Someone You Care About
Stage 4: If cancer has Spread to distant organs like the liver and lungs, it is said to be in stage 4. In such cases, the survival Rate Drops significantly from 15 to 20%.
But in recent times, options like advanced surgery, the latest chemotherapy, targeted therapy, and immunotherapy have become quite popular. With these modern treatment options, we are witnessing a rapid rise in the survival rate.
In Short, Colon Cancer is not a death sentence. It has multiple treatment options, and in its early stages, it can be cured completely too.
Most of the time, patients go under depression after being diagnosed with colon cancer. They fill themselves with negative thoughts and wait for something worse to happen.
But this is the wrong approach. Medical science has advanced significantly in the past couple of years. Today, we can provide some good treatment to all colon cancer patients, irrespective of their stages.
So do not feel depressed; consult an experienced colon cancer specialist who can help you with the right treatment option.
Wrapping up
If you observe any of these symptoms or any of your loved ones in observing them, it's vital that you get in touch with your doctor for a consultation. Appendicitis is 100% curable if you avail necessary treatment on time.
In case you need any assistance or support for Appendicitis, do not hesitate to reach out. Our team will put in every effort to help you with your problems.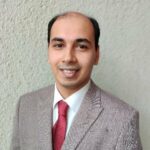 Dr. Aditya Kulkarni
MS, DNB, FRCS, MCh (Surgical Gastroenterology & GI Oncology)
Dr. Aditya Kulkarni is a Consultant of Laparoscopic and Robotic Gastrointestinal, Hepato-biliary-pancreatic, and Cancer Surgeon at the Renowned Oasis Surgery Clinic Pune.